Residential, Commercial & Industrial
At Budget Roof Repairs Perth we have actually mastered cleaning gutters for years. We just utilise competent Perth Gutter Cleaning contractors who comprehend what they are achieving and also ensure that your roof tiles and also downpipes won't be damaged in the method.
We likewise slice away any over-hanging tree limbs that drop leaflets into your rain gutters. Our professional Gutter Cleaning Perth group will certainly provide you with a cost-effective roofing evaluation with the best job accomplished. If you need any kind of roof repair work or your tiles need repairing, we can additionally assist.
Rain Gutter Cleaning Perth is advised on an annual basis. Keep your family members safe from hazards such as fire and also flooding by having Budget Roof Repairs Perth take care of all your Perth guttering jobs.
We additionally can undertake
Gutter repairs and also rain gutter replacement Perth.
We specialise in many facets of gutters Perth.
Why Cleanse Your Residence Rain Gutters?
Clear seamless gutters stop flooding damages right into your drywall and also roofing cavities, creating expensive substitute as well as roof restorations Perth.
Stops fires starting. Local forest fire embers can drift right into your gutters or cinders coming out of your chimney in winter.
Rotting as well as corroding of rain gutters, causing an expensive gutter replacement.
The steady overruling of gutters creates weatherboards, foundations as well as stump degeneration.
Overruling rain gutters moving water on to paths as well as terraces, making them mossy and extremely hazardous.
Tidy gutters indicate you are receiving clean water. As a result, having a terrific source of freshwater.
Our Rain Gutter Cleaning Perth Services Include:
Cleaning all leaflets, twigs and also trash from guttering as well as roof
Cleanse all downpipes and also channels
Evaluate roofing for fractured ceramic tiles and also leakage by qualified roofing contractors
Cut and also remove any over-hanging trees branches or hedges
Proficient and certified roofers do all jobs.
All debris and also trash is eliminated to a regional waste depot in Perth. It will not be left on the premises like some other gutter cleaning Perth companies do!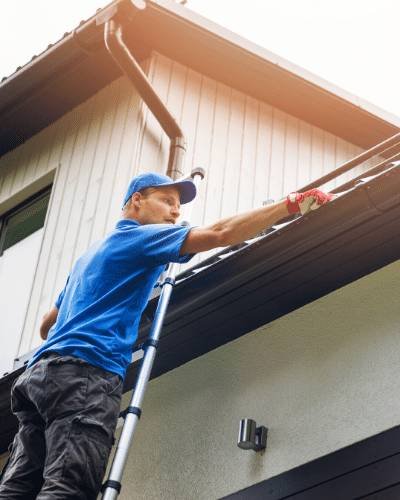 Budget Roof Repairs Perth operate in the Perth Metropolitan area.
Fremantle | Baldivis | Canningvale | Armadale | Morley | Joondalup | South Perth | Rossmoyne | Victoria Park | Scarborough | Crawley | Como | Murdoch and other areas on request
Fill out the form below and we will be in touch with you soon.